Grow with us
We're experts in insurance. It's all we do. That's why we're really good at tailoring all of our products and services to your needs. At Homesite, we help you protect what matters most.
Founded in 1997
Available in 48 states and the District of Columbia
Partners with major auto insurance carriers
Provides quality insurance products and competitive premiums across the nation
Offers customers the convenience of managing their policies anytime, anywhere, with our online servicing capabilities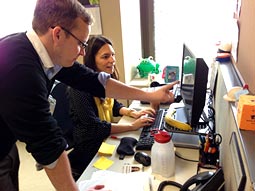 Open positions
More than just a name, Homesite Insurance symbolizes our brand promise of giving our customers one less thing to worry about. Having a brand promise that makes peoples' lives easier? That sounds pretty good, doesn't it?
Check out our open positions and internships to see why you'd be a perfect addition to the Homesite family.